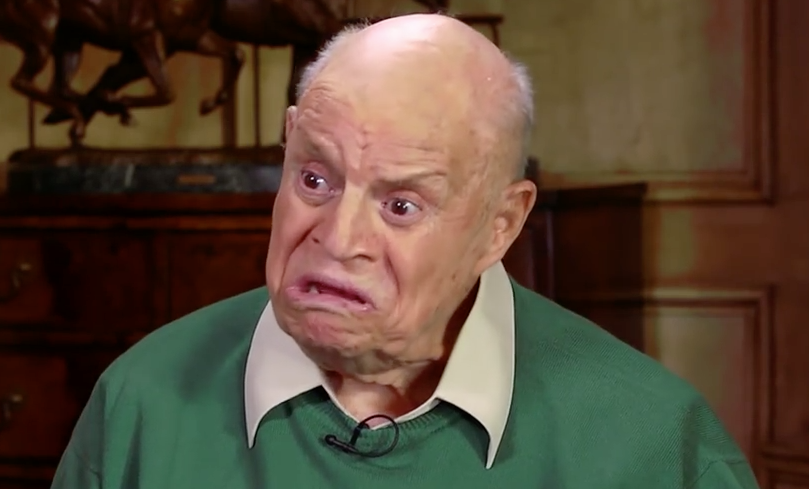 (Image: Screenshot/YouTube)
Another legend has left the building.
Comedian and actor, Don Rickles, has died at the age of 90 from kidney failure.
With a face only a mother could love, Rickles was well known for his showmanship and his use of insults towards audiences and other celebrities.
Rickles was a regular on the "Dean Martin's Celebrity Roast" shows in the 1970s. Rickles was even an honorary member of the legendary Rat Pack -- which included Frank Sinatra, Dean Martin, Sammy Davis Jr., Peter Lawford and Joey Bishop.
His brash style of comedy had no boundaries, and no one was off limits. Rickles made fun of everyone from Dean Martin to former president Ronald Reagan.
Despite being a comedy legend for over 50 years, Rickles will probably be best known among younger audiences as the voice of "Mr. Potato Head" in the Toy Story movies.
Rickles also acted in a number of box-office hits over the years. His film credits include The Rat Race (1960), Beach Blanket Bingo (1965), Kelly's Heroes (1970) and Casino (1995).
Classic fans of Rickles will remember the comedian most for his television appearances. He was a regular on "The Tonight Show with Johnny Carson" making 89 appearances over a 27-year span.
The list of hit shows Rickles made guest spots on rivals anyone in television history.
Here are some of the shows Rickles has appeared on:
The Twilight Zone (1961)
The Addams Family (1964)
The Dick Van Dyke Show (1964)
The Munsters (1965)
The Beverly Hillbillies (1965)
Gomer Pyle: USMC (1965)
The Andy Griffith Show (1965)
F Troop (1965)
Gilligan's Island (1966)
The Lucy Show (1967)
I Dream of Jeannie (1967)
Get Smart (1968-1969)
Sanford and Son (1974)
Archie Bunker's Place (1982)
Gimme a Break! (1983)
Newhart (1989)
The Larry Sanders Show (1997)
Murphy Brown (1998)
The Bernie Mac Show (2002)
Hot in Cleveland (2011)
According to Variety:
Survivors include Rickles' wife of 52 years, Barbara; a daughter and a son; and two grandchildren. In lieu of flowers, the family requests that donations be made to the Larry Rickles Endowment Fund at Children's Hospital Los Angeles.
Rest in peace, Mr. Rickles.
Credits source: IMDB